Go Back
DESCRIPTION
After long nights of experimentation in our garage-atory, (part garage, part laboratory), we boiled car care down to a science. Through trial and error, we have perfected optimal formulas and solvents that breakdown road contamination at a molecular level, leaving your vehicle clean, protected, and ready for the road ahead. We've done all the research - it's a smooth ride from here.

ULTIMATE RUBBER DEGREASER solution for tires and trim pieces. Our highly concentrated detailing solution removes grease, brake and oil stains providing a shine that's effective on rubber trimming and can be used for cars, trucks, RV's, boats, big rigs, motorcycles, and home use.

EASY TO USE simply spray the rubber degreaser to tires or any rubber surface. The spray solution will emulsify on contact for a deep shine with less scrubbing required.

EFFECTIVE AND SAFE on all automotive wheels, tires, weather mats, rubber trim pieces, and more! T2D breaks down those stubborn brake stains and oils that standard APCs just can't quite collect.

SUPER CONCENTRATED FORMULA is designed to be easily diluted with water to be perfect light, medium and heavy duty cleaner.

KEEP TIRES LOOKING NEW: T2D Tire and Rubber Cleaner removes the grime and buildup from your tires and rubber trim to restore the rich, deep black look.


METHOD
DILUTION 4:1 (Tires + Rubber)

Spray directly on tires, agitate with standard brush, and rinse with water.
Follow with Suds Lab's T4 Weatherproof Tire Bond for a road-ready shine.

WARNING
May be corrosive to metals. May be harmful if swallowed. Causes eye and skin irritation. Causes serious eye irritation. May cause respiratory irritation. Read label before use. Do not get in eyes, on skin, or on clothing. Do not swallow. Wash thoroughly after handling. Do not breathe vapor. Close container after each use. Wear protective gloves and eye protection.

First Aid
IF SWALLOWED: Rinse mouth. Do NOT induce vomiting. Immediately call a POISON CENTER or doctor/physician. IF ON SKIN (or hair): Remove contaminated clothing. Wash affected areas thoroughly with soap and water. Launder clothing before reuse. IF IN EYES: Rinse cautiously with water for several minutes. Remove contact lenses if present, and easy to do so. Continue Rinsing. Obtain medical attention if irritation persists. IF INHALED: Remove person to fresh air and keep comfortable for breathing.

CONTAINS:
2-Butoxyethanol, Sodium Hydroxide, Sodium Metasilicate

KEEP OUT OF REACH OF CHILDREN.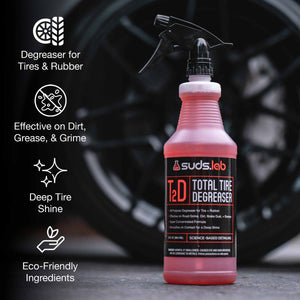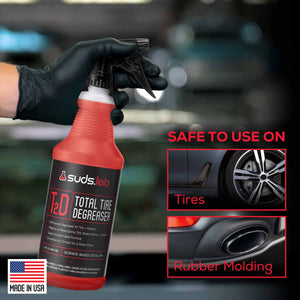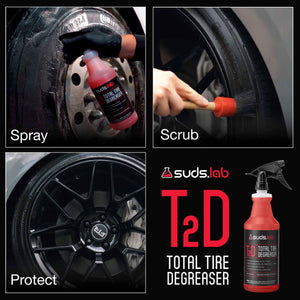 Recommended
You might want to take a closer look.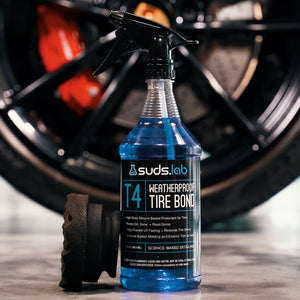 Pair It With: T2D Total Tire Degreaser
CLEAN AND SHINE
Degrease your tires with T2D before sealing them up with T4 Weatherproof Tire Bond