Go Back
DESCRIPTION
The concentrated high-foaming car soap gives your ride a well-deserved snow day! The extra sudsy soap zeroes in on tough dirt and grime without harming any wax or paint coatings. Soak, scrub, and rinse, for a streak-less shine that starts your weekend right. Works best with a foam cannon or the two-bucket cleaning method. After long nights of experimentation in our garage-atory, (part garage, part laboratory), we boiled car care down to a science. Through trial and error, we have perfected optimal formulas and solvents, leaving your vehicle clean, protected, and ready for the road ahead. We've done all the research - it's a smooth ride from here.

ALL IN ONE easy to use protectant spray for your car's tires and plastic trim pieces. The formula prevents cracking and fading on your tires, dash and vinyl. Our high gloss silicone based gel will leave your car's tires shining like new.

ULTIMATE TIRE PROTECTION for the harshest weather conditions including snow, slush, road grime, and more. The high-gloss solvent restores your tires to ensure your tires last longer and look great.

UV PROTECTION: Protects against harmful solar damage to help prevent cracking, fading and discoloration of automotive interiors and exteriors.

RESTORES and REPAIRS fading color on both rubber and plastic surfaces. Ideal for weathered tires, rubber trim pieces. Simply apply using a foam applicator pad or a spray mister.

SCIENCE BASED DETAILING: Our silicon based weatherproof tire and trim protectant is ideal for any tire or automotive plastic. We recommend keeping it in your glove box or trunk for a quick detailing.


METHOD
Always clean tired using C3 Cleaner or T2D beforehand.

Apply directly to tired with a foam applicator pad or mist using a sprayer. Allow T4 to fully dry before operating the vehicle.

<B>NOTE</B>: Product is NOT body shop safe. Contains Silicone. Use only as directed.
WARNING
May be harmful if swallowed. Read label before use. Do not get in eyes, on skin or on clothing. Do not swallow. Wash Thoroughly after handling. Do not breathe vapor. Close container after each use. Wear protective gloves and eye protection.

First Aid
IF SWALLOWED: Rinse mouth. Do NOT induce vomiting. Immediately call a POISON CENTER or doctor/physician. IF ON SKIN (or hair): Remove contaminated clothing. Wash affected areas thoroughly with soap and water. Launder clothing before reuse. IF IN EYES: Rinse cautiously with water for several minutes. Remove contact lenses if present, and easy to do so. Continue Rinsing. IF INHALED: Remove person to fresh air and keep comfortable for breathing.

KEEP OUT OF REACH OF CHILDREN.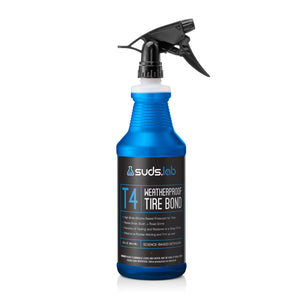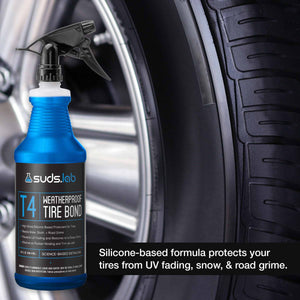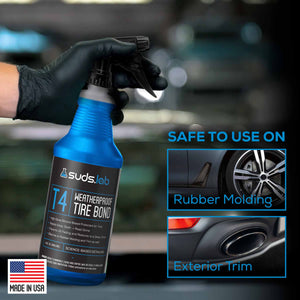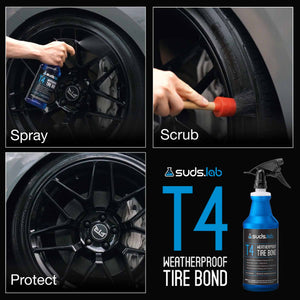 Recommended
You might want to take a closer look.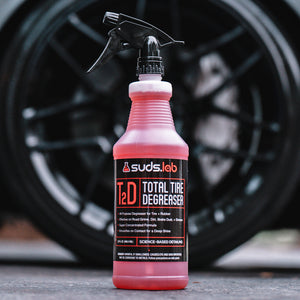 Pair It With: T2D Total Tire Degreaser
CLEAN AND SHINE
Degrease your tires with T2D before sealing them up with T4 Weatherproof Tire Bond