Go Back
DESCRIPTION
Suds Lab Zero-Acid Wheel Cleaner Breaks down road grime and brake dust as thoroughly as any acid cleaner… without the acid. Safe for most wheel types and chrome rims. Abrasive particles activate on contact to dissolve contaminants with limited scrubbing required. Mix with water and splash on, we'll take it from here. After long nights of experimentation in our garage-atory, (part garage, part laboratory), we boiled car care down to a science. Through trial and error, we have perfected optimal formulas and solvents that breakdown road contamination at a molecular level, leaving your vehicle clean, protected, and ready for the road ahead. We've done all the research - it's a smooth ride from here.

ZERO ACID WHEEL CLEANER: Suds Lab features a 100% acid-free formula designed to safely clean polished rims. Do NOT apply to hot rims or on uncoated aluminum or anodized wheels. Do not let XA dry on the wheel surface.

MINIMAL SCRUBBING REQUIRED: Our zero acid cleaner removes dirt and grime, so you don't have to! Simply spray the rims and tires and wait roughly 60 seconds for shiny, good-as-new wheels. Wheels should be cool to touch before applying.

EASY TO USE: Simply dilute our cleaning solution with water and watch it go to work! The abrasive particles activate on contact to dissolve dirty chemical contaminants with limited scrubbing required.

CLEANS WHEELS FAST: Within just a few minutes of applying the tire wash solution to your rims and tires, brake dust and grime will be removed. Suds Lab acid-free Wheel Cleaner leaves your rims and brake calipers shiny and clean.

NON-CORROSIVE and safer than acid-based cleaners, this multi use essential spray for auto detailing, gives your car or truck tires a shining finish.


METHOD
Use at full strength for tough, caked on brake dust.

DilutION: UP TO 4:1
for milder dirt and grime.
Spray directly on cooled rims and tires. Allow product to sit for 30-60 seconds, then rinse with clean water.

Do NOT apply to hot rims. Do not spray on uncoated aluminum or anodized wheels.
Do not let XA dry on wheel surface.


WARNING
Harmful if swallowed. May cause severe skin burns and eye damage. May cause respiratory irritation. Read label before use. Do not get in eyes, on skin, or on clothing. Do not swallow. Wash thoroughly after handling. Do not breathe vapor. Close container after each use. Wear protective gloves and eye protection.

FIRST AID
IF SWALLOWED: Rinse mouth. Do NOT induce vomiting. Immediately call a POISON CENTER or doctor/physician. IF ON SKIN (or hair): Remove contaminated clothing. Wash effected areas thoroughly with soap and water. Launder clothing before re-use. IF IN EYES: Rinse cautiously with water for several minutes. Remove contact lenses if present, and easy to do so. Continue Rinsing.
IF INHALED: Remove person to fresh air and keep comfortable for breathing.

Contains
Sodium Hydroxide

KEEP OUT OF REACH OF CHILDREN.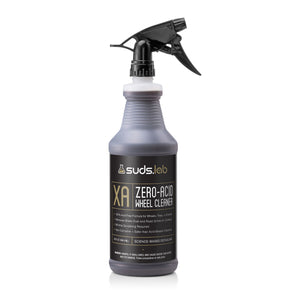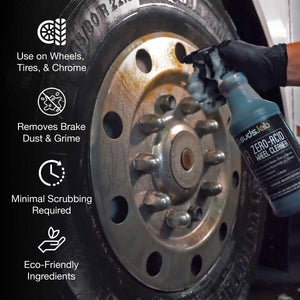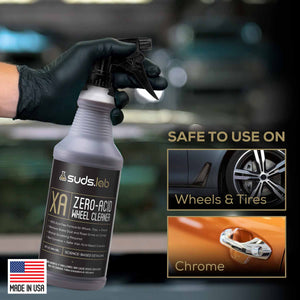 Recommended
You might want to take a closer look.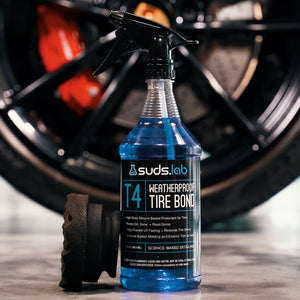 Pair It With: T4 Weatherproof Tire Bond
FRESHEN UP YOUR RIDE
Restore your fabric for a like-new look