Go Back
DESCRIPTION
AZ All-Purpose Interior Wipes are a go-to cleaner you can keep in the glove compartment for interior touch ups and washes. Wipe spills and stains off most surfaces like vinyl, leather, and carpeting. Easily clear tough fingerprints and hand markings from various surfaces, leaving them looking crystal clear and brand new. Our wipes dry quickly to ensure they don't leave behind streaks or sticky residue, making them safe and effective for the many surfaces in your vehicle. Wipes will feel slightly dry to the touch. Repeat a circular wiping motion until the surface is spotless. Always clean with both sides and use additional wipes if necessary. <br><br> After long nights of experimentation in our garage-story, (part garage, part laboratory), we boiled car care down to a science. Through trial and error, we have perfected optimal formulas and solvents that break down road contamination at a molecular level, leaving your vehicle clean, protected, and ready for the road ahead. We've done all the research - it's a smooth ride from here.

ALL IN ONE Cleaning Wipes allow you to carry just one product to detail your vehicle's interior. Say goodbye to buying separate car cleaning products for your vehicle's dashboard, seats, headliner, doors, and carpet!

ULTIMATE MULTI-SURFACE CLEANER: AZ automotive interior wipes remove tough stains and grime. Safe to use on auto interiors such as leather, fabric, vinyl, rubber, plastic, and more! Won't dry out, damage or fade automotive surfaces

QUICK AND EFFECTIVE CLEAN: Wipes come in an easy-to-dispense container and can be thrown away when you're done for a mess-free finish. Add our disposable interior cleaning wipes to your car detailing kit supplies, or keep a pack in your dashboard compartment to clean on-the-go!

LINT-FREE DESIGN: Shields against dust, dirt and lint buildup. These lint-free car interior cleaning wipes are designed to hold onto dust and dirt particles and won't leave a greasy residue on your hands

NATURAL MATTE POLISH: AZ Wipes unique blend of premium ingredients safely leave behind a natural matte finish without a shiny, greasy residue. Keep your car looking fresh for weeks!


METHOD
Wipe interior surfaces with AZ wipes from Suds. Lab. Wipes will feel slightly dry to the touch. Apply to car doors, handles, dash, steering wheel and more with a circular, cleaning motion. Always clean with both sides and use additional wipes if necessary. Let surface dry before operating your vehicle. Dispose of wipes in the trash. Not recommended for glass pr [painted surfaces. Do not flush.
WARNING
When using this product, do not get into eyes, If eye contact occurs, rinse thoroughly with water. Stop using wipes if skin irritation begins to occur. Consult a physician if irritations continue for more than 72 hours. If swallowed, seek medical attention immediately, or contact a poison control center. Wipes are not for personal care.

KEEP OUT OF REACH OF CHILDREN.

WARNING CANCER AND REPRODUCTIVE HARM. www.P65Warnings.ca.gov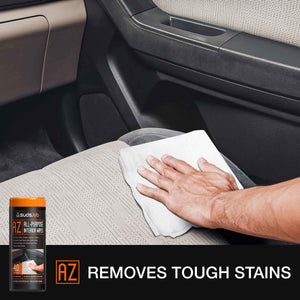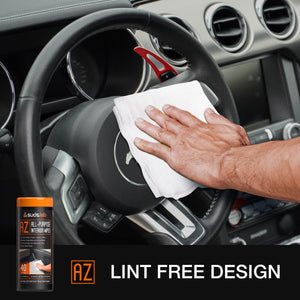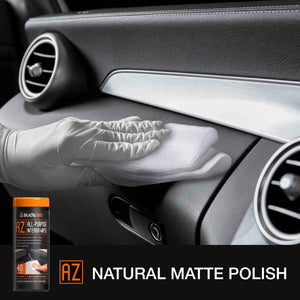 Recommended
You might want to take a closer look.
Pair It With: N2 Interior Solution
ULTIMATE INTERIOR BUNDLE
Use N2 on any tough dirt or grim, then clean your interior surfaces with the AZ Interior Wipes!